Ortho Resto Hands-On Kurs
Sammen med Tannlege Sebastian Däröste inviterer vi til heldags kurs i Oslo med fokus på veiledning og praktisk trening i å jobbe med aligners og annen minimal invasiv behandling . I kurset får du hands-on trening i korrekt bruk av attachments, hands-on steg for steg med introduksjoner, enkle teknikker for plassering av fast retensjon og justering av alignere og mye mer
Pris kr 7 900,- Inkl. mva (2xTreatment Planning Simulation , verdi 4000,-) incl, via Smart Aligner)

Dr. Sebastian Däröste
One of the world's youngest Invisalign Diamond Providers
Global speaker for Align Technology, Aligner Consulting and more
Ongoing MSc in Specialist Practice of Clear Aligner Orthodontics
Affiliate Member of Master Aligner Online Academy
Postgraduate Diploma in Clear Aligner Therapy
Informasjon
PREDICTABLE SMILE MAKEOVERS
- How to get there safely & efficiently.
Sammen med Tannlege Sebastian Däröste ønsker vi velkommen til
Ortho Restorative Hands-on kurs i Oslo den 31. mars fra kl. 09.00-18.00.
I kursavgiften er alle materialer inkludert. I tillegg får du 2 Treatment Planning Simulation (verdi 4 000,- NOK) inkludert i kursavgiften via Smart Aligner. I løpet av dagen byr vi på drikke, snacks og en times lunsj.
Dette er et kurs for deg som ønsker å starte med aligners på klinikk eller har jobbet med dette tidligere. Under hands-on delen vil det være mulig å få 1-1 veiledning og teste teori i praksis.

Sagt om kurset:
Veldig flott kurs! Masse nyttig infomasjon som lett kan anvendes i praksis

God balanse i kurset. Mye hands-on og praktiske tips!
Program og Innhold
Teoridel
What attachments exist
When to use which attachments
Planning cases for safe IPR
Performing IPR efficiently
Communication between technician & dentist
Easy & multidisciplinary patient examples
Step by step - Injection Molding Technique (IMT)
Free hand or IMT?
Fixed & removable retention
Common errors & my mistakes
Hands-on / Workshop
Correct Attachment & Elastics Application
Performing IPR Safely & Efficiently
Step By Step Injection Molding Technique (IMT)
Easy Fixed Retainer Placement & Aligner Adjustment
PROGRAM
09:00-11:00 Aligner Theory
11:00-12:00 Hands On: Attachments + IPR
12:00-13:00 Lunch
13:00-16:00 IMT Theory & Live Demo
16:00-18:00 Hands On: IMT + Fixed Retainer
(Short breaks before & after lunch)
Etter kurset vil du få utstedt kursbevis. Påmelding er bindende, maks 15 deltakere for best mulig utbytte av kurset. Kurset forhåndsfaktureres fra Tannlege Sebastian Däröste.
Kurset foregår på norsk/engelsk avhengig deltakere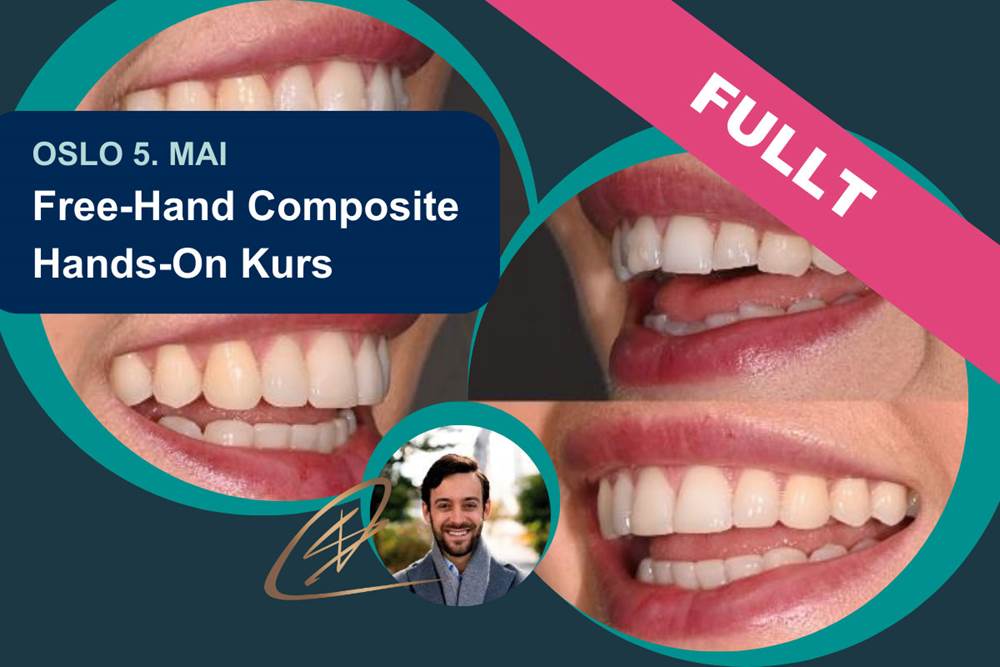 Free-Hand Composite Hands-On Kurs
Vi inviterer til heldagskurs med Tannlege Sebastian Däröste hvor det blir fokus på veiledning og praktisk trening i å jobbe med anteriorkompositt med frihåndsteknikk. Kurset vil dekke teori og hands-on trening i emner som valg og bruk av frihånds-, IMT- og porselensteknikker, valg av farge, lukking av diastema, sorte triangler, fasader, ideell etterbehandling for å øke holdbarheten, og vanlige feil.
Les mer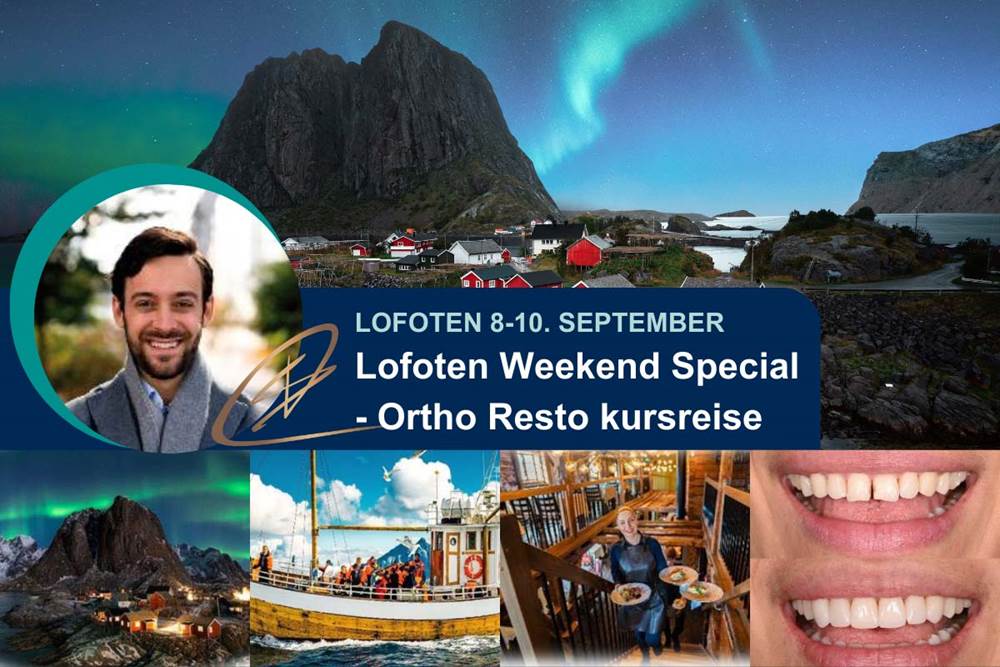 Lofoten Weekend Special - Ortho Resto kursreise
Sammen med Tannlege Sebastian Däröste inviterer vi deg til å delta på Lofoten Weekend Spesial. Kurset vil ha fokus på veiledning og praktisk trening i å jobbe med alignere og andre ortodontiske behandlinger. Du vil få hands-on trening og nyttige tips i det som blir gjennomgått i teoridelen. I tillegg til kurs, vil reisen inkludere hotellovernattinger i vakre Svolvær, privat fisketur og middager på lokale restauranter med mer.
Les mer